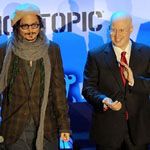 Alice in Wonderland is comic actor Matt Lucas's first American movie; however, in England, Lucas is extremely well-known as the co-creator and star of the comedy series Little Britain. In Alice, Lucas plays Tweedledee and Tweedledum, characters Lucas describes as "both childish and child-like, juvenile in the extreme." Lucas feels his forte is playing eccentric characters, so he was delighted to get to work with Tim Burton, who not only favors quirky characters but also displays remarkable "trust of his actors," Lucas says.
"He employs people he likes, then he really trusts them to build the character and the performance," Lucas told Geoff Boucher of the Los Angeles Times. "[T]he first take is always the actors' take. With all the money invested into the project and how little time people have to make the movie. He let actors have the first take and then work with them to craft – keep that, turn that bit down, try for this. [. . .] He brings with him the enthusiasm of someone making their first film," Lucas said. "You have the expertise of someone who has been doing it a long, long time but there is still something boyish in his excitement. I think the same can be said of Johnny Depp. It was just ambition on display and enthusiasm and excitement and craft. They seemed pleased to be there. I know I was.
"You get warmth in spades from Johnny and Tim," Lucas continued. "You get briefly included in their warm friendship. In Johnny's trailer, and this betrays a confidence perhaps but I hope he will forgive me, on the refrigerator there's a drawing of the Mad Hatter by Johnny's kids. And it said, 'Good Luck Dad.' I found that so wonderful."
The Zone thanks Snoopy Dances for the Matt Lucas interview and Theresa for the picture of Johnny and Matt at the Ultimate Fan Event in Los Angeles. To see a larger photo, CLICK HERE. You can read more about Alice in Wonderland on the Zone's News and Views forum, and you can read the full Matt Lucas interview HERE.