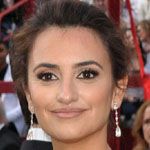 Access Hollywood's Billy Bush caught up to Penelope Cruz on the red carpet at the Oscars on Sunday, and asked her about returning to the Academy Awards as "the defending champion" in the Best Supporting Actress category. "I want to enjoy everything that I couldn't enjoy last year because I was so nervous," Ms. Cruz replied. "This year, I am still nervous, but I am determined to enjoy tonight." The Oscar-winner was also asked what her next project would be, and Ms. Cruz's answer will be of interest to Johnny Depp fans:
ACCESS HOLLYWOOD: Will you get right into another film, right now, or are you taking some time off? What are you going to do?
PENELOPE CRUZ: I think I will make a movie in the summer–
ACCESS HOLLYWOOD: In the summer?
PENELOPE CRUZ: In June. I think it will be Pirates of the Caribbean, and I'm very excited about that. And I will not work before that. [with a laugh] Oh, I will work, but I will not be shooting a movie before that.
More confirmation that we can look for Penelope Cruz to share the screen with Johnny Depp's Captain Jack Sparrow in On Stranger Tides. What fun!
The Zone thanks Emma for the Access Hollywood interview. You can read more about Pirates of the Caribbean 4 on the Zone's News & Views forum.