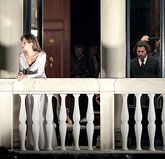 The much-anticipated first photo of Johnny Depp and Angelina Jolie working together in The Tourist has finally arrived–and shows Angelina's character, Elise, standing on a balcony, while Johnny's character, the American tourist Frank, gazes out a window. There's no connection between the characters yet, but we're enjoying any pictures we can get from this beautiful setting. You can see a larger view of the balcony scene HERE, but don't expect to see Romeo and Juliet! The Tourist, under the direction of Florian Henckel von Donnersmarck, continues filming in Venice through May.
In a recent interview with Mark Salisbury published in Time Out, Johnny had this to say about about his current project: "The Tourist is something that kind-of arrived with Angelina Jolie attached and it seems good. It seems like something different for me. If it's related to anything genre-wise it's got a North by Northwest feel to it that I like." As for his celebrated co-star, Johnny said: "I've seen her in a couple of things and she seems awfully great, you know: seems like a good girl. Loves her family, loves her man, loves the work."
The Zone thanks Theresa for the picture and the Time Out article; you can read the full interview on the News & Views forum.