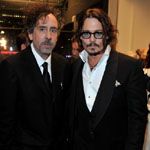 Ben Lyons of E!Online recently had the opportunity to interview Johnny Depp and Tim Burton about their new film Alice in Wonderland, which arrives in movie theaters–in glorious 3D–on Friday, March 5th. Here is a transcription of a bit of that video interview. Lyons asked Johnny to "walk him through" the process of transforming into the Mad Hatter:
Johnny Depp: Well, early calls . . . early calls, and you sit in a chair, and people start painting this kind of greasepaint on your face, and suddenly you start to disappear. And then you are attacked by a giant orange ferret, and they attach it to your head. And then you are wrapped in a magnificent 19th century surrealist costume, the hat goes on, and you're ready to go.
Lyons then asked how it was working in the green-screen environment.
Tim Burton: Well, for me it was new. I hadn't really done it to this level before. The absurdity that we both enjoy, and then just the surreal nature of making a movie, and everything . . . it just kind of added to that. So we tried to use what was negative and treat it like a bizarre positive.
Johnny Depp: Yeah. Exactly.
Lyons recalled that the last time he spoke to the duo, they were promoting Sweeney Todd. He asked them to reflect about what it meant to have a film that "younger audiences," in particular their own children, could enjoy.
Johnny Depp: Well, it means a lot. the good thing is that, as you said, is that the kiddies can go to it and kind of enjoy it. And we hope that we just did something that will make them laugh, and live in that moment and have a ball with it.
The Zone thanks Marijose for sharing the E!Online video.