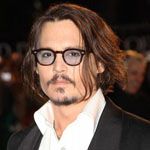 Once again Johnny Depp has been named Japan's favorite actor in the annual "Golden Grand Prix" readers poll conducted by Screen magazine. This is the seventh straight year that Johnny has topped the poll–an all-time record. The previous record of six consecutive years was held by Audrey Hepburn in the early 1960s. Screen has been conducting its poll since 1952. Johnny's vote total for favorite actor was more than double the number for the runner-up, Robert Pattinson of the Twilight saga. Third place went to Brad Pitt. Congratulations, Johnny!
"[Johnny's] popularity hasn't gone down since the time of the first Pirates of the Caribbean movie," Screen's editor-in-chief, Akihiro Yonezaki, told the press. "He has such a wide fan base ranging from the younger generation to older people."
The Zone thanks Emma for sharing the news; you can read more on the Zone's News & Views forum.