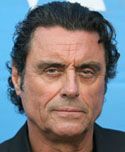 Golden Globe winner Ian McShane is in negotiations to join the cast of Pirates of the Caribbean 4: On Stranger Tides. According to The Hollywood Reporter, McShane will play the villain of the tale, "the legendary pirate Blackbeard– whose real name was Edward Teach–who piloted the ship Queen Anne's Revenge." The role seems ideally suited for McShane, who won his Golden Globe (and received an Emmy nomination) for his gripping performance as the foul-mouthed brothel owner Al Swearengen in Deadwood. Last year, McShane was seen as King Silas Benjamin in the NBC series Kings.
McShane will join Johnny Depp (as Captain Jack Sparrow) and Penelope Cruz in On Stranger Tides, which is scheduled to shoot in Hawaii this summer. Rob Marshall will direct from a script by Pirates scribes Ted Elliott and Terry Rossio.
The Zone thanks Theresa for breaking the news. You can read much more about the next Pirates film on the Zone's News & Views forum.