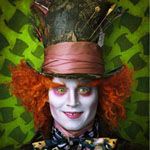 Walt Disney Pictures and Buena Vista Records join forces with Hot Topic, KIIS-FM, MySpace and musical artists from the album Almost Alice to celebrate the upcoming release of Tim Burton's 3D version of Alice in Wonderland by hosting an "ultimate fan event" on February 19th in Los Angeles. The event seems to be primarily a concert featuring artists who appear on the Almost Alice album, with 3OH!3, Metro Station, Family Force 5, Kerli and Never Shout Never scheduled to perform live. For those not in that music demographic, Disney is also promising that Alice director Tim Burton will attend "to introduce select members of the Alice in Wonderland cast." No word on whether the Mad Hatter will be included among the cast members on hand, but the event does occur during the Alice press junket when the talent will be in town.
The star-studded concert event begins at 5 p.m. on Feb. 19, 2010, at the Hollywood & Highland Center's Central Courtyard. If you can't get to Los Angeles, the event will be streamed live on MySpace HERE. Disney promises that "viewers around the world" will be able to "experience the event first-hand, see exclusive backstage interviews with talent and interact by posting comments and questions to the page." Sounds exciting!
The Zone thanks Theresa for breaking the news; you can read more about the Ultimate Fan Event, and all other news surrounding the release of Alice in Wonderland, on the Zone's News & Views forum.