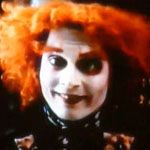 What a wonderful way to begin the new year . . . with a snippet of an interview with Johnny Depp about his upcoming role in Tim Burton's Alice in Wonderland! The Disney Channel ran a brief preview of Alice during its New Year's Eve programming, and while it mainly featured scenes from the trailer, it did include the following question for JD and his reply:
Q: What is it about the story that appealed to you?
JOHNNY DEPP: Well, it's a teenage Alice and she's fallen down the rabbit hole yet again. I have the honor of playing the Mad Hatter. It is a gift for an actor and I consider myself very, very lucky to have been able to play the role. The relationship between Alice and the Hatter is as if they complete one another, like a brother and sister do, you know. He's very protective of her, and she's very protective of him. And it was really fun.
The Zone thanks Theresa for the interview transcript; you can see a video clip of the Disney Channel segment on the Zone's News and Views forum. Thanks also to dramaqueen for the screencap of the Mad Hatter.
Alice in Wonderland arrives in movie theaters in North America on March 5, 2010–only about two months away, now. Happy New Year! –Part-Time Poet