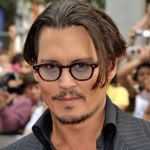 The Hollywood trades are buzzing with rumors that Johnny Depp's next film role will be opposite Angelina Jolie in The Tourist, a thriller due to start production in February. The Tourist will be financed and distributed by Graham King's GK Films under his new agreement with Sony Pictures Entertainment; since King is frequently involved in JD's film projects (most recently, The Rum Diary and Rango), this lends credibility to the rumors.
According to Variety, Johnny would play the title role, "an American tourist drawn into a web of intrigue and danger by a female Interpol agent (Jolie) as she attempts to locate a criminal who was once her lover." The film is a remake of the French thriller Anthony Zimmer (2005); Julian Fellowes drafted the screenplay, "with rewrites by Christopher McQuarrie and Jeffrey Nachmanoff."
The Tourist has been through multiple personnel changes at the highest levels–Tom Cruise and Charlize Theron were originally set for the leading roles, then were replaced by Avatar's Sam Worthington and Angelina Jolie. Now Worthington and director Florian Henckel von Donnersmarck have moved on (due to "creative differences"), which leaves The Tourist searching for a leading man and a director. "Already, directors are circling the plum gig," says Variety, "including Alfonso Cuaron." Cuaron directed Children of Men (2006).
The Zone thanks FANtasticJD for breaking the news; you can read more about The Tourist on the Zone's News & Views forum. To read the Variety article, CLICK HERE. –Part-Time Poet