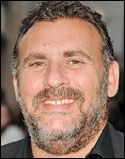 Producer Graham King–that genial fellow on the left–has just signed a three-year, multi-film deal for his GK Films with Sony Pictures Worldwide Acquisitions Group, Variety reports. Mr. King is wrapping up a 4 1/2-year first-look deal with Warner Bros. The switch in studio affiliation is of major interest to Johnny Depp fans since GK Films regularly partners with Johnny's company, Infinitum Nihil, on IN's projects: for example, GK Films co-produced and fully financed The Rum Diary, starring Johnny Depp and directed by Bruce Robinson, which filmed in Puerto Rico earlier this year. GK Films is also producing Gore Verbinski's animated feature Rango, starring Johnny Depp, which is due in theaters in 2011.
According to Variety, Graham King "will continue to work with Warners on a number of films already in development"–presumably this will include the upcoming Infinitum Nihil project Dark Shadows, although nothing definite has been said about that film. "Working with Warners has been, and continues to be, a wonderful experience and I cherish the support and collaboration of the whole team," King said. "But the deal with Sony Pictures gives us guaranteed distribution for our films and the opportunity to work with a successful and respected studio that handles every type of motion picture equally well." Sony continues to support smaller-budget films aimed at adult audiences, while Warners has all but turned its back on independent films since the writer's strike.
Under the terms of his new deal, King's GK Films will independently develop, finance and produce a minimum of two films a year that will be marketed and distributed worldwide by Sony. The Zone wishes Mr. King well at his new studio and hopes some of those films will be IN projects starring Johnny Depp.
The Zone thanks FANtastic JD for breaking the news; you can read more about the GK Films-Sony deal on the Porch forum. To read the Variety article, CLICK HERE. -Part-Time Poet