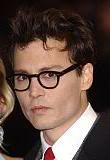 The offers just keep coming his way . . . reports surfaced today that Johnny might play the leading role in Robert Rodriguez's MADMAN, based on Mike Allred's pop-art comic book. According to Dave Davis, "MADMAN follows a dead man named Frank Einstein who is brought back to life by a scientist. With a scarred body, a dodgy memory and an array of nifty gadgets, he dons a superhero costume and defends Snap City from various zany threats while still finding time to fall in love with a swell gal named Joe." Rich Johnston of Comic Book Resources reported that Johnny arrived at a recent voiceover session (presumably for Tim Burton's CORPSE BRIDE, which is shooting concurrently with CHARLIE AND THE CHOCOLATE FACTORY) with a MADMAN script in hand. No word on possible scheduling for this movie, although Rodriguez is well-known for his speed.
Not well-known for his speed is Harvey Weinstein of Miramax, who told a reporter for the Daily Mail that "one of my last remaining ambitions" is to make a film about Sir Isaac Newton, and his choice to play the scientific genius is Johnny Depp. Apparently Johnny's performance as J.M. Barrie in Miramax's FINDING NEVERLAND has convinced Harvey that Johnny can bring any role to life. "He was the most brilliant scientist in history, but he also spent considerable time working as a detective," Weinstein told the Daily Mail. "He was absolutely fascinating." No word on when the Newton film might go into production, or even if there is a script yet.
Finally, Deppth Bay reminds us that Paramount Pictures wants Johnny to play Robert Ripley in their upcoming biopic about the 1930s explorer and creator of Ripley's Believe It or Not! Paramount has hired ED WOOD screenwriters Larry Karaszewski and Scott Alexander to write the film; given Ripley's colorful career and his interest in oddities and curiosities, the script should have plenty of ED WOOD's zany humor and might appeal to Johnny. However, he is not signed for any of these projects–unlike the recent announcement of SHANTARAM, for which Johnny is signed to play the leading role–and it is difficult to see how he could fit all of them into his already crowded schedule. For an actor who is always worried about getting fired, though, it must be nice to be in such demand. The Zone thanks Lilac and DeepinDepp for the news on MADMAN, Emma for the Daily Mail story on Harvey Weinstein, and Deppth Bay for reporting on Ripley.