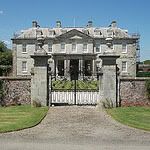 Tim Burton's ALICE IN WONDERLAND will film at historic Antony House near Torpoint in southeast Cornwall during two weeks in September. An early 18th century mansion set in parkland and fine gardens, Antony House (seen at left), a National Trust property, will be closed to the public from September 1, 2008 until October 14, 2008 to allow filming to take place, reports the Plymouth (U.K.) Herald. The house, its gardens, and the Woodland Garden are all likely to serve as locations. To see photos of this beautiful estate,
CLICK HERE
.
Rebecca Miller, National Trust house and visitor services manager for the property, told the Herald: "We are absolutely over the moon that Antony has been chosen as a location for Tim Burton's new film ALICE IN WONDERLAND. One of the reasons it was chosen was because it's a hidden gem," Miller said. "It's one of the Trust's lesser known properties and they felt this fitted in very well with the feel of the film."
Noting that the National Trust is happy to lend its sites to film and television crews whenever it's feasible, Harvey Edgington, the National Trust's broadcast media liaison officer, told the Herald that there is "a direct financial benefit" to the Trust from the Burton film. "[F]our out of five [National Trust] properties run at a loss every year due to conservation demands," Edgington explained. "ALICE IN WONDERLAND will not only help raise funds for the ongoing conservation work needed at Antony, but will also contribute to the local economy by having the crew on location." Not to mention all the future visitors who will tour Antony House to see where ALICE IN WONDERLAND was filmed, and will contribute to the local economy for years to come.
The Zone thanks Emma for the Herald story, and Anna for the photographs of Antony House. You can read more about Tim Burton's ALICE IN WONDERLAND on the Zone's News & Views forum. –Part-Time Poet