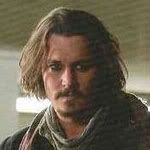 Thank goodness for Twitter! Young Daniel Huttlestone, who played Gavroche in last year's Les Miserables and will be playing Jack (of beanstalk fame) in Rob Marshall's film of the Stephen Sondheim fairy-tale musical Into the Woods, tweeted this on Sunday: "Start INTO THE WOODS tomorrow. So exciting !! Get to meet Johnny Depp, Meryl Streep, James Cordon ect …. Can't wait !!!!!!" Huttlestone's follow-up tweet today confirmed that the cast had reported for duty and was hard at work: "Rehearsing at the moment. Going really cool !! Singing with James Corden, Meryl Streep and Johnny Depp !! So exciting!!" He also posted a picture of himself with Corden, who plays the Baker, on his Facebook page HERE. Looks like they're having fun!
Johnny Depp is playing the Wolf in the Disney production, in an ensemble that also includes Meryl Streep as The Witch, James Corden as The Baker, Emily Blunt as The Baker's Wife, Anna Kendrick as Cinderella, Chris Pine as Cinderella's Prince, Billy Magnussen as Rapunzel's Prince, Mackenzie Mauzy as Rapunzel, Lucy Punch as Lucinda, Tammy Blanchard as Florinda, Christine Baranski as Cinderella's Stepmother and Tracey Ullman as Jack's Mother. Best wishes to all as they begin their work!
The Zone thanks emma for sharing the news; you can read more about Into the Woods on the Zone's News & Views forum.