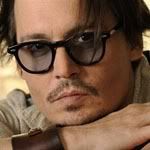 Here's a happy surprise: there's another new project on Johnny Depp's schedule! Johnny is now in negotiations to star in Mortdecai for director David Koepp at Lionsgate. The snappily-titled Mortdecai is an adaptation of Kyril Bonfiglioli's final novel, The Great Mortdecai Moustache Mystery. Johnny will be producing the film with his Infinitum Nihil partner Christi Dembrowski and Andrew Lazar.
Johnny will play roguish art dealer Charles Mortdecai, who, the studio says, "must traverse the globe armed only with his good looks and special charm in a race to recover a stolen painting rumored to contain the code to a lost bank account filled with Nazi gold." Got that? If that's not enough plot for you, the Hollywood Reporter states that Mortdecai "also has to juggle angry Russians, the British Mi5, his impossibly leggy wife and an international terrorist." Sounds like he's in for a busy day.
David Koepp has long been one of the busiest and most successful screenwriters in Hollywood — if you saw Jurassic Park, the first Mission: Impossible, Spider-Man, Panic Room, or Indiana Jones and the Kingdom of the Crystal Skull, you saw his work. He previously directed Johnny Depp as Mort Rainey in Secret Window (Koepp adapted Stephen King's novella for the screen); his most recent effort as writer-director was 2012's Premium Rush.
The Zone thanks Theresa for breaking the news; you can read more about Mortdecai on the Zone's News & Views forum. The Hollywood Reporter article is available HERE.