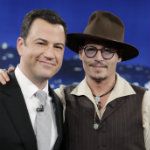 Wearing rolled-up sleeves and a hat almost as big as the Lone Ranger's, Johnny Depp appeared on Jimmy Kimmel Live on Monday night and solved a mystery of several months' duration: how he happened to get his picture taken with the chart-topping boy band One Direction last November. Midway through the interview, Kimmel produced the photo, saying, "Your daughter tweeted this photograph, and this is you with the band One Direction. How did this happen?"
JOHNNY DEPP: My daughter was . . . she's a great fan of One Direction and she asked if she could go to see them on — I think The Ellen Show or something like that. (Ed. note — One Direction filmed a concert on November 9, 2012 that aired on The Ellen Show on November 14, 2012.)
JIMMY KIMMEL: Right. Okay.
JOHNNY: So I hooked it up, and . . . (audience laughter)
JIMMY: That's a nice chit to have, as a dad. I mean, really.
JOHNNY: I arranged for her to go and see them on the show, and then they wanted to come back and say Hi, so —
JIMMY: (incredulous) To your house?
JOHNNY: Yeah.
JIMMY: Ow, wow. Wow. That's a helluva — that's really hooking it up. So then One Direction went with your daughter back to your house.
JOHNNY: You seem somewhat jealous. (audience laughter)
JIMMY: No one ever comes to my house.
Photos from the show are available HERE. The Zone thanks humiliatedgrape for sharing the photos. You can read more about Johnny's appearance on Jimmy Kimmel Live on the Zone's News & Views forum.