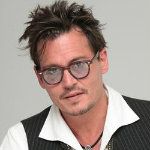 In an interview that aired on CBS This Morning on July 1, co-host Charlie Rose engaged Johnny Depp in a far-ranging and lively conversation about many matters dear to Johnny's heart: the creation of Tonto, the acting process, Marlon Brando, fatherhood and its responsibilities, Johnny as musician, and Johnny's goals for the future. When Charlie asked what having kids has meant, Johnny replied, "Everything." He continued:
JOHNNY: They've certainly made me grow up, that's for sure. Just as they sort of progress throughout life — my son, my boy Jack is now 11, my daughter Lily-Rose is 14 — you know, you start getting hit with some very interesting situations in life, as a parent. When they approach that teenage arena, which is frightening, because you still have memories of that age, and the things you might have been doing at that age, so . . . (laughing)
CHARLIE: You lay awake thinking, God, I hope they don't do what I did.
JOHNNY: Oh, God. Please don't do what I did.
Asked what his priorities for the future are, now that he's turned 50, Johnny said his goals were to "search for a little more freedom, here and there. Maybe a little less work — a little more time with the kids — a little more freedom. A little more time off."
"More space," Charlie suggested, and Johnny agreed. "More space, more ability to breathe, and not . . . you know, not have to be the novelty."
The Zone thanks humiliatedgrape for sharing the CBS This Morning interview; you can read more on the Zone's News & Views forum.