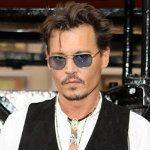 Zoners will be giving their DVRs a real workout in the next few days, as Johnny Depp has three major interviews scheduled to promote The Lone Ranger. First, Johnny will appear with director Gore Verbinski on CBS Sunday Morning with Charles Osgood on June 30th for an interview with journalist Lee Cowan. In most markets, CBS Sunday Morning airs at 9 a.m., but in the Pacific time zone, the program may begin as early as 6:30 a.m., so do check your local listings; it would be a shame to miss this.
On Monday, July 1st, Johnny will appear on CBS This Morning for an interview with show co-host Charlie Rose (yes, the one and only Charlie Rose). CBS This Morning airs from 7:00 – 9:00 a.m.
Later that night, Monday, July 1st, Johnny will appear on Jimmy Kimmel Live, which airs on the ABC network at 11:35 p.m. His Lone Ranger co-star, Armie Hammer, will appear on Jimmy Kimmel Live the following evening, July 2nd.
The Zone thanks FANtasticJD and Theresa for breaking the news; you can read more about Johnny's television appearances on the Zone's News & Views forum.