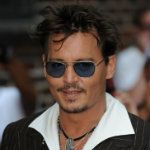 Johnny Depp arrived at the Ed Sullivan Theatre in New York City this afternoon, Tuesday, June 25th, to tape an episode of CBS's The Late Show with David Letterman which will air on Thursday, June 27, 2013. Also appearing on the program that night will be comedian Adam Newman and musical guest Dawes, promoting their new album "Stories Don't End." Johnny, of course, will be talking about a little movie in which he plays Tonto to Armie Hammer's Lone Ranger.
After the taping, Johnny returned to the gathered crowd and patiently greeted well-wishers and signed autographs,despite the churlish and aggressive behavior of some professional autograph-hunters who almost trampled ordinary folks who had been waiting in line for hours to see Johnny. (Videos are available on You Tube.)
Photos of Johnny arriving at the Ed Sullivan Theatre are available HERE.
The Zone thanks Chocolat and Lou Lou 63 for sharing the news and Theresa for the pictures. You can read more about Johnny's appearance at The Late Show on the Zone's News & Views forum.