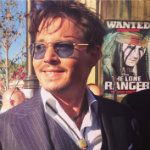 A beaming Johnny Depp walked down the red carpet on Hollywood Boulevard at Disney's California Adventure Park in Anaheim, California this afternoon for the world premiere of The Lone Ranger. Thousands of fans lined the red carpet, cheering, and Johnny stopped to shake hands, sign autographs, and pose for pictures with as many well-wishers as possible. Johnny wore a dark pin-striped suit with a white shirt and bolo tie, and his customary blue glasses. For a larger version of the photo of Johnny, CLICK HERE.
The Zone thanks mytreasure for sharing the photo; you can read more about The Lone Ranger premiere on the Zone's News & Views forum.
Congratulations to Johnny Depp, Armie Hammer, Jerry Bruckheimer, Gore Verbinski, and the cast and crew of The Lone Ranger, and best wishes for a memorable and joyous premiere.