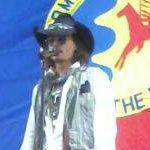 Johnny Depp continues his commitment as an adopted son of the Comanche Nation by making a special appearance at a private screening of The Lone Ranger in Lawton, Oklahoma on Friday, June 21 — the day before the film's world premiere in California. The screening at the Carmike Cinemas in Lawton is by-invitation-only for members of the Comanche Nation. According to lawtoninfo.com, "It appears at this time that 4 sets of bleachers will be set up on either side of a red carpet in the theater parking lot — again, for guests with advanced tickets — to catch Depp's arrival at the theater." The bleachers will not be open to the public; the seating is for invited guests.
Johnny has visited Lawton, Oklahoma before; Zone readers will recall that Johnny attended the Comanche Nation Fair in September 2012 with his Comanche mother, elder and activist LaDonna Harris (who adopted Johnny into the tribe in May 2012). At this time, he completed his adoption ceremony. In his new Rolling Stone interview, Johnny explains his desire to re-interpret the role of Tonto as a Comanche shaman and relates that to his commitment to the Comanche Nation. "I wanted to maybe give some hope to kids on the reservations. [. . .] They're living without running water and seeing problems with drugs and booze. But I wanted to be able to show these kids, '[expletive] that! You're still warriors, man.'"
The Zone thanks emma for breaking the news; you can read more about Johnny's visit to Lawton on the Zone's News & Views forum.