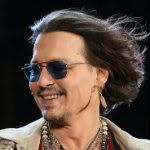 Johnny Depp will sing Sondheim onscreen for the second time later this summer, when he reports to London to film the role of the Wolf in Rob Marshall's Into the Woods, and he told E!Online that he's thrilled with the opportunity. "I'm so excited to play the Big Bad Wolf [. . .] That kind of thing is sort of a dream come true." The cast is dreamy, too: Anna Kendrick has just signed on to play Cinderella, joining an ensemble that also includes Meryl Streep as the Witch; James Corden and Emily Blunt as the Baker and the Baker's Wife; Chris Pine and Jake Gyllenhaal as brother-princes who woo Rapunzel and Cinderella; Daniel Huttlestone as Jack the Giant-Killer; and Tracey Ullman as Jack's mother.
Even though Johnny's previous Sondheim role, as the murderous barber in Sweeney Todd: The Demon Barber of Fleet Street, brought him a Golden Globe and a Best Actor Oscar nomination, Johnny admits he's intimidated by the complexity of Sondheim's music. Sondheim is "amazing," Johnny said, "but when you're not a crack vocalist, it's quite complicated stuff that he writes. But I'm looking forward to it."
Stephen Sondheim himself is on record as approving of Johnny's Sweeney Todd. "I've always preferred actors who sing instead of singers who act and generally I've tried to cast that way with the shows in New York," he said. "They have to be musical. They have to be able to carry a tune. They have to have a sense of rhythm.
"Legitimate voices, so to speak, can be too big for the screen," Sondheim explained. "The screen is much more intimate, a realistic medium. In order for singing to work on the screen, it has to be acted and it has to be small."
The Zone thanks emma and humiliatedgrape for sharing the news; you can read more about Into the Woods on the Zone's News & Views forum. The E!Online story, including a video clip, is available HERE.