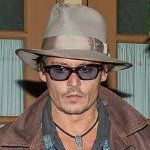 Taking a break from the New Mexico filming of Wally Pfister's Transcendence, Johnny Depp had dinner with Amber Heard and Keith Richards at West Hollywood's Ago restaurant on May 22nd. Photographs taken of the group as they left the restaurant (accompanied by Johnny's security chief Jerry Judge) are available HERE. Johnny wore jeans, a brown denim jacket, and his favorite tan fedora; Amber wore a white chiffon blouse, an elegant white fringed skirt, and camel shoes.
Earlier in the day, Johnny made a stop at a Los Angeles office building; photos of Johnny with Jerry Judge are available HERE.
The Zone thanks christinaFAN, Lou Lou 63, Evochka, Gilbert's Girl, and Theresa for sharing photographs. You can read more about Johnny's visit to Los Angeles on the Pit General Discussion forum.