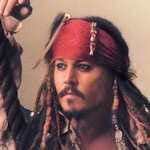 Now that producer Jerry Bruckheimer has The Lone Ranger ready to ride into theaters in July, he and Disney need to choose a director for Pirates of the Caribbean 5, which is scheduled for release on July 10, 2015 and will once again star Johnny Depp as Captain Jack Sparrow. According to Deadline.com, there are three leading candidates receiving consideration to direct the 5th installment: Fredrik Bond, who recently directed the Shia LaBeouf-starring action comedy The Necessary Death Of Charlie Countryman; Joachim Rønning and Espen Sandberg, directors of last year's Oscar-nominated adventure film Kon-Tiki; and Rupert Sanders, best known for Snow White and the Huntsman.
"Given the names here, they're clearly looking to inject fresh creative energy to the mix," Deadline's Mike Fleming suggests. He adds that "no offer has been made yet" but he expects the choice of director to "be locked within the next few weeks." We'll keep a sharp eye!
You can read more about Pirates of the Caribbean 5 on the Zone's News & Views forum. The Deadline.com article is available HERE.