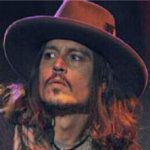 During his interview with David Letterman on The Late Show Thursday night, Johnny Depp spoke publicly for the first time about his new publishing venture, the Infinitum Nihil imprint for HarperCollins. Earlier this month, Infinitum Nihil published its first title, House of Earth, a lost novel by American musical icon Woody Guthrie. David Letterman displayed a copy of the book and asked Johnny about the project's genesis.
DAVID LETTERMAN: Johnny, you're now publishing . . . I know you have a love of books, and you have published this New York Times bestseller already. This is a lost novel from Woody Guthrie?
JOHNNY DEPP: Yes.
DL: About the Dust Bowl?
JD: Yes.
DL: How did you find the transcript of this?
JD: It came to me through a mutual friend of Hunter Thompson's and myself, this guy named Douglas Brinkley, who's a brilliant writer and historian — professor — he's just amazing. So he called me and said, "I've just been shown the manuscript to Woody Guthrie's last novel . . . . I think you're the guy. I think we should publish it." And so we went into it, and just wanted to make the book as, you know, beautiful as possible, since they're a dying breed, these things.
DL: You have plans to publish other volumes, different things?
JD: We have a couple of things in line. There's a thing we're doing with Bob Dylan, which should be interesting.
For those curious about House of Earth, ONBC — the Zone's online book club — will be discussing the novel in March, and our moderators are currently presenting tidbits of background information to enhance your enjoyment of the novel. You can join the conversation HERE; everyone is welcome. House of Earth is available on Amazon for $16.61 in that dying breed, the hardcover, and $12.74 for the Kindle edition.
The Zone thanks Maritza 1 for the photo of Johnny on The Late Show; you can see a larger version HERE.