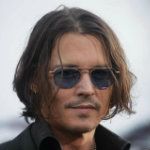 Johnny Depp has a new role to play, and it's a juicy one: Boston mob kingpin Whitey Bulger, who spent more than a decade on the FBI's Most Wanted List and eluded capture until 2011. Barry Levinson is set to direct the crime thriller, entitled Black Mass after its source, the New York Times bestseller Black Mass: The True Story of an Unholy Alliance Between the FBI and the Irish Mob, by Dick Lehr and Gerald O'Neill. Deadline.com reports that Black Mass will be "a co-production between Cross Creek and Nigel Sinclair and Guy East's Exclusive Media, with the two entities co-financing. Universal Pictures is aboard to release the film in the U.S. through Cross Creek's distribution deal with the studio, and production is to begin in May."
Black Mass will be produced by Cross Creek's Brian Oliver and Tyler Thompson, John Lesher, and Infinitum Nihil's Christi Dembrowski. No further cast has been announced.
The Zone thanks FANtasticJD for breaking the news; you can read more on the Zone's News & Views forum. The Deadline.com story is available HERE.