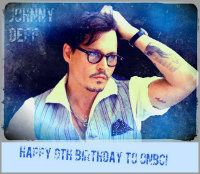 The Johnny Depp Zone is delighted to celebrate the 9th birthday of Oprah Noodlemantra's Book Club, the first such group ever founded to read works associated with or recommended by Johnny Depp. The first book ONBC read was Stephen King's novella Secret Window, Secret Garden (also known as Two Past Midnight) — King's work was chosen for ONBC's debut because at that time Johnny Depp had just finished filming his role as Mort Rainey in David Koepp's adaptation of Secret Window. Liz posed ONBC's first question about Secret Window, Secret Garden at two past midnight on November 1, 2003, and she and DeppintheHeartofTexas have been delighting and challenging us ever since!
Liz's birthday card for ONBC-– you can see it HERE — displays the 43 books that Oprah Noodlemantra's Book Club has discussed over the past nine years – a very impressive list! Year Ten kicks off with a book dear to Johnny's heart – Damien Echols' memoir Life After Death. Tidbits for Life After Death begin next Monday, November 5th, so please stop by and sample the ONBC discussion; there's no better time to get acquainted with the fun, camaraderie, and intellectual stimulation that the Noodlemantras bring to the Zone every day. Johnny Depp has reaffirmed his love for and commitment to great literature by inaugurating his own Infinitum Nihil book imprint, so we're looking forward to a bright future reading books that Johnny loves.
The Zone happily congratulates Liz and DITHOT and their new colleague firefly dances on ONBC's 9th birthday and thanks them for their dedication, enthusiasm, and outstanding leadership. Day in and day out, you always give us so much to be proud of on the Zone, as you celebrate Johnny Depp in your unique and insightful way. Happy Birthday, ONBC!