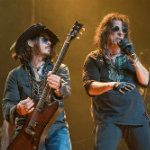 The hits just keep on coming: Johnny Depp joined Alice Cooper onstage during a sold-out show at the Orpheum in Los Angeles on Thursday night, November 29th. Johnny played guitar with Alice and the band for the "Raise the Dead" tribute section of the show and remained through the encore: the set list included "Break On Through," "Revolution," "Foxy Lady," "My Generation," "I'm Eighteen," "Under My Wheels," "Poison," and "School's Out." You can see pictures from the event HERE. Videos from the concert are available on Alice Cooper's website HERE.
The Zone thanks Emma for breaking the news and Pixie and Lou Lou 63 for sharing pictures. You can read more about the Alice Cooper concert on the Zone's Pit General Discussion forum.
This musical collaboration will take the stage again on December 8th, when Johnny performs with Alice and the band for Alice's Christmas Pudding charity benefit in Phoenix. Great music for a great cause–we're looking forward to it!