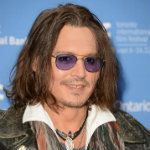 Surprise! The next film on Johnny Depp's shooting schedule may be Transcendence, a present-day sci-fi romance to be directed by Oscar-winning cinematographer Wally Pfister. Alcon Entertainment announced today that Johnny is indeed "negotiating to star in Transcendence," which they are packaging for an early 2013 shoot. The screenplay is by newcomer Jack Paglen. While Transcendence will be Pfister's first directorial effort, his distinguished resume includes the camerawork for Memento, The Italian Job, Batman Begins, The Prestige, The Dark Knight, Inception, Moneyball, and The Dark Knight Rises. Many of those films were directed by Christopher Nolan; Nolan and his wife Emma Thomas are serving as executive producers of Transcendence.
Pfister has previously worked with Johnny Depp on the video for Sir Paul McCartney's "My Valentine," which was released last spring. Regarding Transcendence, Pfister said, "I'm thrilled and feel very fortunate to have the opportunity to work with Johnny. He is a creative and intelligent artist whom I feel will bring great depth to the character and the overall narrative."
The Hollywood Reporter offers some speculation on other casting: "Pfister has met with and likes Noomi Rapace (Sherlock Holmes: A Game of Shadows; Prometheus) as the film's female lead and is considering James McAvoy and Tobey Maguire as possibilities for other male lead. Oscar winner Christoph Waltz has an offer for a supporting role." That's an exciting cast!
Principal photography on Transcendence is set to begin early next year, with Warner Bros. onboard as the film's distributor.
The Zone thanks Theresa, humiliated grape, and emma for sharing news stories; you can read more about Wally Pfister's Transcendence on the Zone's News & Views forum.