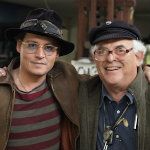 The documentary on Ralph Steadman's life and work, For No Good Reason, premiered at the BFI London Film Festival today, and Mr. Steadman himself spoke before the screening. Steadman reminisced about time he had spent at Hunter S. Thompson's farm in Colorado in the 1990s; this was when he first met Johnny Depp. "He's a lovely fellow," Steadman said of Johnny. "He used to turn up to see Hunter as I turned up, but I would turn up to see Hunter because we were working together doing gonzo journalism. How easy to talk to I found Johnny Depp, one of the easiest people to talk to you could ever imagine. He's so sweet and just so nice and easy going, and Hunter was always so gruff."
Charlie Paul, the director of For No Good Reason, includes footage of Johnny and Ralph in the documentary. How did he feel approaching an A-list actor to appear in his film? "At first it was quite daunting but Johnny is such a lovely man and such a great fan of Ralph's and he's so relaxed over at Ralph's house that it was very easy and very natural," Paul told the audience. You can see a photo of Johnny and Ralph Steadman HERE.
At this time, For No Good Reason is not scheduled to be shown in the U.S., but hopefully that will change. The Zone thanks Theresa for sharing the interview and Zone member Pixie for sharing her personal experience at the screening; you can read more about For No Good Reason on the Zone's News & Views forum..