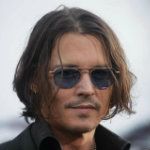 Johnny Depp's Infinitum Nihil continues to expand its horizons into television production: Deadline.com reports today that Infinitum Nihil "has partnered with leading Scandinavian producer Yellow Bird Productions, which is behind the original Girl With The Dragon Tattoo films, and Emmy-winning writer-producer Tom Fontana for a scripted series based on the plays of William Shakespeare. Young writer Randall Fontana (no relation to Tom Fontana) will write the project, described as a modern take on the plays of The Bard, building on the existing characters and plots from several of his most notable plays."
The Shakespeare series marks Infinitum Nihil's second foray into television; Infinitum, headed by Johnny's sister Christi Dembrowski, and Graham King's GK TV are already developing a period drama for Lifetime about The Hollywood Reporter founder William Wilkerson. Infinitum Nihil's feature film credits include The Rum Diary, Hugo, Dark Shadows, and the currently-in-production The Lone Ranger.
The Zone thanks FANtasticJD for sharing the exciting news; you can read more about Infinitum Nihil's Shakespeare project on the Zone's News & Views forum. The Deadline article is available HERE.