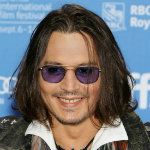 A smiling Johnny Depp arrived at the Toronto International Film Festival today–Saturday, September 8–and took part in a press conference to support the documentary West of Memphis, Amy Berg's film about the miscarriage of justice in the case of the West Memphis Three. West of Memphis tells the story of the three young boys who were murdered in West Memphis, Arkansas in 1993, and the three young men–Damien Echols, Jason Baldwin, and Jessie Miskelley, Jr.–found guilty of those murders "after a shockingly brief investigation." Berg's film chronicles the efforts to prove the West Memphis Three innocent. The director was joined at her press conference today by a now-freed Damien Echols, his wife Lorri Morgan, Johnny Depp, and, by Skype from New Zealand, Lord of the Rings director Peter Jackson, who is one of the film's producers.
When asked what had drawn his attention to the case, Johnny replied, "First and foremost, the great injustice. First, a heinous attack on three young boys, more then likely . . . it became a witch hunt." Johnny described seeing an earlier documentary about the case, Paradise Lost, and realizing that the murder convictions were unjust. "I just knew this was a horrific lie, and wanted to help [. . .] any way I could."
Johnny came to Toronto to support Damien Echols,to bring attention to the film, and hopefully to advance the cause of justice. "I'm essentially a gas station attendant with a strange job," he said, with self-deprecating humor. "I don't think of myself as celebrity, I'm here as a friend." Still, he hopes to do some good: "If there are people out there who will take a minute to listen to me, they'll learn more about this case. I'm here to help attain justice for all."
To see a larger version of the photo above, CLICK HERE, to see a photo of Johnny with Damien Echols, CLICK HERE, and to see Johnny, Lorri, and Damien answering questions at the press conference, CLICK HERE. For a photo of director Amy Berg, Johnny, Damien, and Lorri, CLICK HERE.
The Zone thanks Emma, Evochka, humilatedgrape, and Theresa for sharing photos, and Emma for sharing the transcript of the press conference. You can read much more about Johnny's visit to the Toronto Film Festival on the Zone's News & Views forum.