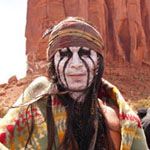 Gore Verbinski's retelling of The Lone Ranger, starring Johnny Depp as Tonto and Armie Hammer as the masked ranger, has now wrapped its location shooting in Moab, Utah, according to producer Jerry Bruckheimer. Mr. Bruckheimer posted the following message on the Jerry Bruckheimer Films blog: "Filming of The Lone Ranger has wrapped in Moab. We shot some great action and train sequences in the middle of the desert. The location was at least an hour drive from any hotel or airport down a long, windy, bumpy dirt road. Cast and crew had to make the trek everyday, but the footage we got was well worth it."
Mr. Bruckheimer shared some spoiler-free photos of the breathtaking Moab locations HERE and HERE. Gorgeous! As the film crew left Moab, Mr. Bruckheimer tweeted, "We're 3/4 of the way through filming The Lone Ranger. Less than a year til its release." We're looking forward to it!
The Zone thanks Emma and fogFrog for sharing the news; you can read more about The Lone Ranger on the Zone's News & Views forum.