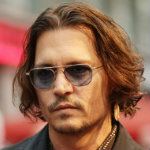 Great news! Johnny Depp will team with highly-regarded director Wes Anderson for Anderson's next film project, The Grand Budapest Hotel. Multiple media outlets, including Deadline.com, Variety, the Hollywood Reporter, CinemaBlend and E! Online reported the story this morning. The Grand Budapest Hotel will be produced by Anderson along with Scott Rudin and Indian Paintbrush's Steven Rales. There are no plot details available about the movie or the type of role Johnny will play, though Anderson told CinemaBlend's Eric Eisenberg that "he wrote the script with a friend who has never been involved with the film industry before (his previous co-writers include Owen Wilson, Noah Baumbach, and Roman Coppola)."
The Grand Budapest Hotel will mark the first time Johnny has worked with Wes Anderson. Johnny is the first cast member to commit to the project, but Anderson is rumored to be seeking Bill Murray, Owen Wilson, Edward Norton, Jude Law, Jeff Goldblum, Adrien Brody, Willem Dafoe and Angela Lansbury as well. What an ensemble that would be!
The Grand Budapest Hotel will film in Europe — Anderson's first venture there. Deadline's Mike Fleming suggests that this will be Johnny's next project, once he finishes his role as Tonto in The Lone Ranger.
The Zone thanks FANtasticJD and Joni for breaking the news; you can read more about The Grand Budapest Hotel on the Zone's News & Views forum.