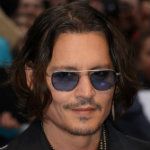 Despite the fact that #DeppinDublin was trending on Twitter over the weekend, the man himself was nowhere near the Emerald Isle . . . as regular Zone readers know, Johnny has been busy filming his role as Tonto in Gore Verbinski's The Lone Ranger, and he was plying his trade in Moab, Utah this weekend. That didn't keep some media outlets from being sucked into the hoax, and circulating "Depp in Dublin" stories as if they were fact. Whoops–the joke's on them.
Cleaning up the mess, E!Online reports today that "In fact, Depp was nowhere anywhere near Ireland this week, as had been reported. A source reveals to E! News that he's been on location all week at a remote area near Moab, Utah shooting The Lone Ranger [. . . .] Source says the alleged sightings on Twitter are 'totally fake' and that Johnny was shooting 'all day and night' out in the desert [. . .]."
The Zone thanks FANtasticJD for sharing the article; you can read more about The Lone Ranger on the Zone's News & Views forum.