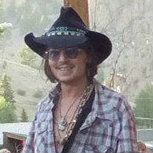 The Lone Ranger has finished its location filming in the mountains near the beautiful town of Creede, Colorado, and Johnny Depp said farewell by signing autographs for several hours at the Creede town hall and posing for pictures with the local residents, many of whom passed along the kindness by sharing those photos online. You can see Johnny signing autographs (and other memorabilia) HERE, HERE, HERE, and HERE; thanks to Keith Siddel, Tabby Goodrow, Jeannie Trudell, and Sarah Harren for the photos. Lynne Cartwright's Facebook page has a number of photos and reports that Johnny "did all he could do to make sure everyone got to see him! He was super nice and gentle and humble [. . .] just wonderful."
Ice Moon took a beautiful photo of Johnny at the signing with security chief Jerry Judge; you can see it HERE. Johnny also took time to shop at a local emporium, Rare Things, and was photographed as he left the shop HERE and HERE.
The Zone thanks all of the Creede residents for their photos and comments; we also thank FANtasticJD, evochka and emma for finding and sharing them with us.