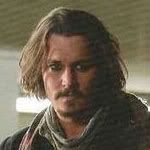 More than twenty years ago, John Waters took a chance and cast Johnny Depp as the lead in his film Cry-Baby, and on Monday night in New York, the legendary director accepted the Fashion Icon award from the Council of Fashion Designers of America on behalf of the legend he launched. In his charming, witty, and delightfully literate acceptance speech, Waters noted that "for the first time ever, the CFDA is giving [the Fashion Icon award] to a man . . . the star who made dirty hair fashionable."
Lauding Johnny as "the ultimate accessory queen," Waters insisted that "[s]tyle comes naturally to Mr. Depp." He described Johnny as "a friend who not only has the finest career of any American actor, but also has fashion balls. Johnny Depp never tries too hard . . . and he can't look ugly no matter how hard he tries." All true!
The Zone thanks emma, chic, and Theresa for sharing news about the CFDA awards; you can read more about them on the Zone's News & Views forum, and you will also find a video of Mr. Waters' speech there.