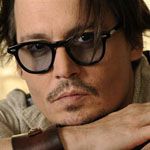 Set your DVRs, Deppheads — you'll have a double-dose of the man himself arriving on your television screens next week! As part of the Dark Shadows promotion — Dark Shadows has its world premiere in Los Angeles at Grauman's Chinese Theatre on Monday, May 7th — Johnny will appear on Ellen: The Ellen DeGeneres Show on Tuesday, May 8th! Here's a comment posted on the show's website: "It's a show for the history books! JOHNNY DEPP, one of the most popular stars of our time, is making his first appearance on Ellen's stage. The movies, the romance, the Oscars — there's so much to talk about, we can only imagine what will happen when he sits down with Ellen for the first time!" Dark Shadows castmates Michelle Pfeiffer and Chloe Moretz will also be Ellen's guests next Tuesday. Since the show is syndicated, check for the time and channel in your area.
Then stay up late to catch Jimmy Kimmel Live on ABC at midnight, when Johnny will be Jimmy's guest. Technically, that show will air on May 9th, since a new day will have begun, but for most of us watching it will still feel like Tuesday night. Fortunately for Johnny the show tapes earlier in the day, since he will be due in London for the Dark Shadows premiere in the early evening of May 9th. Busy, busy . . . but we're loving it here at the Zone.
If you're an early bird, you can catch a joint appearance of Johnny and Tim Burton — always hilarious together — on CBS This Morning on Wednesday, May 9.
Many thanks to Chocolat, Lou Lou 63, Theresa, and humiliatedgrape for sharing the news; you can read more about Johnny's TV appearances on the Zone's News & Views forum.