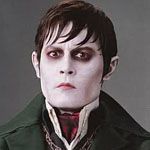 Johnny Depp strikes a formal pose as vampire Barnabas Collins in Tim Burton's update of Dark Shadows, coming to a multiplex near you on May 11, 2012; to see a larger version of the newly-released image, CLICK HERE. Sharing the screen with Johnny are a trio of formidable femmes: Eva Green as the stunning witch Angelique (CLICK HERE), Michelle Pfeiffer as the matriarch of the Collins family, Elizabeth Collins Stoddard (CLICK HERE), and Helena Bonham Carter (with flaming red hair) as Dr. Julia Hoffman (CLICK HERE). The photographs, by Mary Ellen Mark, will appear with a feature by Jim Windolf in the April 2012 issue of Vanity Fair.
Producer Richard Zanuck told Geoff Boucher of the Los Angeles Times that Dark Shadows is "a bit of a horror film, a love story, a soap opera and there's humor; all of it adds up to great entertainment." After a lifetime in Hollywood, Mr. Zanuck certainly knows "great entertainment" when he sees it, so that's quite a compliment.
The Zone thanks Sleepy for sharing the photographs; you can read more about Dark Shadows on the Zone's News & Views forum.