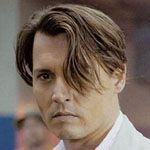 As one Disney project starring Johnny Depp gets underway — The Lone Ranger — Disney confirms that the studio is negotiating with Edgar Wright to direct a future Depp project, the big-screen version of the 1970s television series The Night Stalker. Wright previously directed the cult hit Shaun of the Dead (which would seem to make him a fine candidate to capture The Night Stalker's blend of cynical wit, noir and horror) and Scott Pilgrim vs. the World.
Originally based on the novel The Kolchak Papers by Jeff Rice, The Night Stalker chronicles the adventures of newspaper reporter Carl Kolchak, whose investigations of mysterious crimes invariably lead him to vampires, werewolves, zombies, and other strange or supernatural occurrences. In addition to his other-worldly enemies, Kolchak constantly struggles with police and editors who don't believe his claims (Chris Carter, who created The X-Files, cited The Night Stalker as one of his inspirations). Johnny Depp is attached to play Kolchak, the role Darren McGavin played in the original series. Johnny and Christi Dembrowski will produce for Infinitum Nihil.
No writer has been chosen for the project yet. Mike Fleming of Deadline.com reports that the "subject matter will be tailored to fit Disney's family film mandate and likely a PG-13 rating, but the idea of Wright's hyper-reality style and Depp's gift for constructing quirky characters sounds like a good match." We agree!
The Zone thanks FANtasticJD for sharing the news. You can read more about The Night Stalker on the Zone's News & Views forum. The Deadline.com article is available HERE.