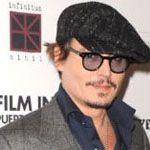 From Death Row to freedom to the silver screen — that's the arc the West Memphis 3's Damien Echols has traced in the past year, as Deadline.com reports that the film rights to Mr. Echols's forthcoming memoir have been purchased by Johnny Depp and Christi Dembrowski for Infinitum Nihil, the Depp production company. The book, due to be published in September, details Mr. Echols's experiences after his arrest and wrongful conviction for the 1993 murder of three eight-year-old boys in West Memphis, Arkansas, a harrowing miscarriage of justice which continued for 18 years and aroused so much public protest that the West Memphis 3 were eventually set free.
Compelling documentary films about the West Memphis 3 include 1996's Paradise Lost, which first brought the case to national attention, and Amy Berg's West of Memphis, produced by Peter Jackson, which recently screened at Sundance to great critical acclaim. Johnny Depp was actively involved in efforts to free the West Memphis 3, including a memorable musical performance with Eddie Vedder and Patti Smith at a fundraising concert in Little Rock in 2010. Now Infinitum Nihil will bring Damien Echols's personal story to the screen in a feature film with Mr. Echols and his wife Lorri Davis as executive producers. According to Deadline.com, the film will "spotlight the controversial conviction and imprisonment of the then 18-year-old" and "present his life before conviction as well its twists and turns leading to release."
The Zone thanks Theresa for breaking the news; you can read more about this project on the Zone's News & Views forum, and you can read the Deadline.com story HERE.