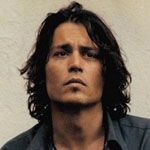 After months of anticipation, filming of the Disney/Jerry Bruckheimer version of The Lone Ranger got underway in New Mexico today, under the direction of Oscar-winner Gore Verbinski. Johnny Depp plays Tonto, described in the press release as a "spirit warrior" (emphatically not a "sidekick"), with Armie Hammer portraying the masked Ranger. The impressive supporting cast includes Tom Wilkinson, William Fichtner, Barry Pepper, James Badge Dale, Ruth Wilson, and Helena Bonham Carter.
Here's the synopsis offered in the official press release: "The Lone Ranger is a thrilling adventure infused with action and humor, in which the famed masked hero is brought to life through new eyes. Native American spirit warrior Tonto (Johnny Depp) recounts the untold tales that transformed John Reid (Armie Hammer), a man of the law, into a legend of justice —- taking the audience on a runaway train of epic surprises and humorous friction as the two unlikely heroes must learn to work together and fight against greed and corruption.
"The Lone Ranger is written by Ted Elliott & Terry Rossio of Pirates of the Caribbean, Eric Aronson and Justin Haythe. The executive producers are Mike Stenson, Chad Oman, Ted Elliott, Terry Rossio, Eric Ellenbogen and Eric McLeod."
The Lone Ranger is scheduled to shoot throughout the summer; the Western is set for release in the U.S. on May 31, 2013.
The Zone thanks Theresa for breaking the news; you can read more about The Lone Ranger on the Zone's News & Views forum.
The Zone sends our best wishes for a happy and successful shoot to Johnny Depp, Gore Verbinski, and everyone involved in The Lone Ranger's production.