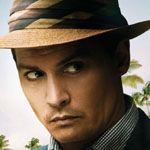 Here's a wonderful Valentine's Day present for Johnny Depp fans: Sony Pictures Home Entertainment has announced that it will release The Rum Diary on Blu-ray and DVD on February 14, 2012! Written and directed by Bruce Robinson, the adaptation of the early Hunter S. Thompson novel stars Johnny Depp as expatriate American journalist Paul Kemp, Amber Heard as the femme fatale Chenault, and Aaron Eckhardt as Sanderson, a real estate baron-in-the-making involved in unsavory development deals in 1960s Puerto Rico.
List price for the standard DVD is $30.99, and the Blu-ray is listed at (gulp!) $35.99. Thrifty movie-lovers can take advantage of Amazon's pre-order price for the Blu-ray, which is a much more budget-friendly $19.99, a $16.00 savings. Check the link HERE.
The Zone thanks Sleepy and Emma for breaking the news, and SnoopyDances for the Amazon link. You can read more about The Rum Diary release on the Zone's News & Views forum.