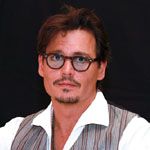 We may not be hearing "Hi-ho, Silver" any time soon; several industry sources are reporting that Disney, citing budgetary concerns, has abruptly shut down production on Gore Verbinski's Lone Ranger, even though the new version of the classic Western, starring Johnny Depp as Tonto and Armie Hammer as the Ranger, was scheduled to begin filming in New Mexico in late October. The news is doubly shocking since Jerry Bruckheimer, Johnny Depp, and Gore Verbinski have earned billions for the Disney studio, individually and as a team.
According to Mike Fleming of Deadline.com, who broke the story late on Friday, "Disney pulled the plug because the budget, which I've heard the filmmakers were trying to reduce from $250 [million], wasn't close to the $200 million that Disney wanted to spend." Fleming also suggests that Lone Ranger is being sacrificed to help balance Disney's production budget, since costs on tentpoles already in production have soared. "John Carter has a budget that has ballooned to north of $300 million [. . .], and The Great and Powerful Oz, the James Franco-starrer, has a budget is hovering at $200 million," notes Fleming.
Disney was also concerned about Lone Ranger's marketability, claims The Hollywood Reporter: "Even though Depp is the biggest star in the world, the project is a Western, and the genre is having some dark days, particularly in light of the recent poor showing of Cowboys & Aliens."
So far none of the parties involved (Disney, Jerry Bruckheimer, Gore Verbinski, Johnny Depp) has issued any official statement; the press reports cite unnamed studio "insiders." The Zone thanks Specktater and Theresa for sharing the news; you can read more about the shutdown of Lone Ranger on the Zone's News & Views forum. The Deadline.com article is available HERE and the Hollywood Reporter article HERE.