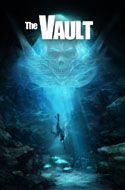 Johnny Depp's Infinitum Nihil and GK Films have acquired the rights to co-produce an adaptation of the Image comic three-issue mini-series The Vault, written by longtime Depp friend and IN executive Sam Sarkar, and illustrated by Garrie Gastonny. The underwater sci-fi story centers on a group of divers who, while diving off the coast of Nova Scotia, uncover a sarcophagus with unusual remains and inadvertently unleash an ancient evil: Sarkar describes the plot as "a contemporary Pandora's Box story." Sarkar and Gastonny previously worked together on the supernatural Western graphic novel Caliber: First Canon of Justice.
According to the Hollywood Reporter, Johnny Depp and Infinitum Nihil's president Christi Dembrowski will produce the movie adaptation of The Vault with GK's Graham King and Tim Headington.
The first issue of The Vault is available now; the second installment is due for release on September 28th. You can see a larger version of the first issue cover HERE. You can find a sneak preview of The Vault's artwork and an interview with Sam Sarkar HERE.
The Zone thanks SeaGoddessCalypso for sharing the news and FireflyDances for the sneak preview of The Vault. You can read more about this project on the Zone's News & Views forum.