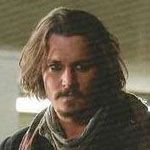 Hermes Press hosted a Dark Shadows panel at ComicCon on Friday, July 22, which featured original TV cast members Lara Parker (Angelique) and Kathryn Leigh Scott (Maggie Evans and Josette du Pres), as well as Jim Pierson, consulting producer for the new Dark Shadows film, and the son of series creator Dan Curtis. Tweets and blog postings from those who attended the panel confirm that four of the original cast members will be making cameo appearances in Tim Burton's new Dark Shadows film. Several weeks ago we reported that Jonathan Frid, who created the iconic role of Barnabas Collins, would be making an appearance; now we know that Ms. Parker and Ms. Scott also have cameos, and so does David Selby, who played Quentin Collins. That's wonderful news for longtime fans, who will love seeing their favorites again.
Here's an eyewitness report from DreadCentral.com: "Parker and Scott were just about bursting at the seams to share the news that they, along with both David Selby (Quentin Collins) and, yes, the much beloved Jonathan Frid (Barnabas Collins) spent three days at Pinewood Studios during the filming of Burton's upcoming Dark Shadows movie. They will all be making cameos, but the real highlight for the quartet was being able to thank Johnny Depp (who plays Barnabas in the new version) for all the kind words and tributes he has given the 45-year-old show, especially as it relates to Frid and his performance. The icing on the cake was Depp telling Frid in person, 'None of this would be here if it wasn't for you.'"
Many thanks to The Woman in Black for her report: you can read it all HERE. You can read more accounts of the ComicCon panel, and other Dark Shadows news and tweets, on the Zone's News & Views forum; many thanks to Cyn and Emma for the updates.