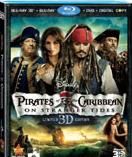 The summer box-office smash Pirates of the Caribbean: On Stranger Tides will be available for purchase in North America in several formats on October 18, 2011. The fanciest edition is a 5-disc Limited Edition Combo Pack that includes Blu-ray 3D, Blu-ray, DVD, and digital copy versions, as well as an additional Blu-ray disc for special features. A standard Blu-ray and DVD set has also been announced, but will omit various bonus features included on the 5-disc set. As always, this will be available in either Blu-ray or DVD packaging. The Limited Edition 5-disc package has a list price of (gasp!) $49.99 while the 2-disc set has been priced at $39.99.
A caveat about the Blu-ray 3D feature; the Amazon.com website warns that the "Blu-ray disc will display only in 2D without special hardware. To watch this movie in Blu-ray 3D, you will need a 3D-capable television that comes with active-shutter glasses and a 3D-capable Blu-ray player." Some good news, though — the 5-disc Limited Edition is available for pre-order from Amazon for $34.99 with free shipping, a savings of $15.
The Zone thanks Theresa for sharing the news; you can read more about the Blu-ray and DVD release of On Stranger Tides, and the various options available for purchase, on the Zone's News & Views forum. For a larger view of the cover art, CLICK HERE.