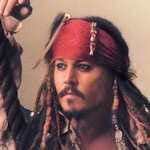 That rogue, Captain Jack Sparrow, has sailed into the record books again! Disney announced today that its fourth Pirates of the Caribbean film, On Stranger Tides, has officially grossed more than $1 billion worldwide (that's billion with a B) since its May 20 release. Congratulations to Jerry Bruckheimer, Rob Marshall, Johnny Depp, Penelope Cruz, Geoffrey Rush, Ian McShane, and the whole On Stranger Tides cast and crew! On Stranger Tides joins its sister-ship, 2006's Dead Man's Chest, in the $1 billion club; Dead Man's Chest finished its run with $1.066 billion.
On Stranger Tides's coffers have been buoyed by an incredible performance at the international box office. With an overseas total of $756.1 million as this weekend began, On Stranger Tides is already the third biggest international grosser of all time, behind James Cameron's Avatar ($2.02 billion) and Titanic ($1.24 billion).
On Stranger Tides becomes the third Disney film in the past 18 months to cross the $1 billion threshold; the others were Toy Story 3 and Alice in Wonderland. That means three of Disney's four billion-dollar movies star Johnny Depp. JD, take a bow!
The Zone thanks Sleepy for sharing the box office news; you can read more about On Stranger Tides on the Zone's News & Views forum.