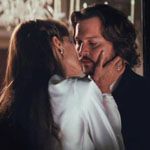 It took a while, but the Hollywood press has finally realized what the rest of us knew by New Year's Day — Florian Henckel von Donnersmarck's romantic thriller The Tourist, starring Johnny Depp and Angelina Jolie, was not a box-office disappointment, but a bona fide hit. Pamela McClintock of The Hollywood Reporter writes, "The movie — which underperformed in the United States — has turned out to be quite the world traveler, grossing a mighty $210.7 million at the international box office. The Tourist [. . .] captured the imagination of international moviegoers across the globe, where it earned more than three times its domestic gross of $67.6 million. With its run coming to an end, The Tourist's worldwide total now stands at an impressive $278.3 million."
The Tourist performed particularly well in Japan (where the film earned $22.5 million despite opening just one week before the devastating earthquake), in China ($20 million), and in Italy ($16 million). With its vibrant overseas performance, "the controversial Golden Globe nomination earned by The Tourist now makes sense," writes McClintock. Ah — but it made sense to the Hollywood Foreign Press Association all along.
The Zone thanks Theresa for sharing the article; you can read more on the Zone's News & Views forum.