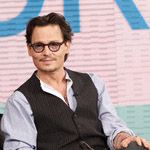 The photo at left shows a newly-shorn Johnny Depp as he appeared at a taping of The Oprah Winfrey Show in Chicago on Friday, April 29th. The episode will air in syndication on May 5th. You can see a photo of Johnny and Oprah on set, sharing their customary glass of wine, HERE. Members of Oprah's audience were also treated to a private advance screening of Pirates of the Caribbean 4: On Stranger Tides–wow! And they got to see Lady Gaga performing live during the taping–she and Jessica Simpson were the other guests in the studio. Definitely a must-see!
Johnny celebrated his return to the Windy City by stopping by the Chicago Music Exchange store in Lakeview on Friday afternoon and buying a vintage guitar and accessories to add to his collection, reports the Chicago Tribune's Luis Arroyave, who says JD was "supernice" during his visit and posed for pictures with well-wishers. You can see one of those pictures HERE. Mr. Arroyave's Tribune column is available HERE.
The Zone thanks Fireflydances, Serendipity, FANtasticJD and addicted2Depp for sharing articles, tweets, and pictures about Johnny's visit to Chicago. You can read more on the Zone's News & Views forum.