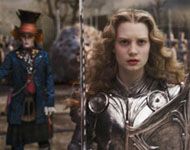 Colleen Atwood won her third Academy Award for Best Costume Design on Sunday night, for her astonishingly imaginative designs for Tim Burton's Alice in Wonderland. She has previously won Oscars for Chicago and for Memoirs of a Geisha; her six other nominations include previous collaborations with Tim Burton and Johnny Depp on Sleepy Hollow and Sweeney Todd: The Demon Barber of Fleet Street. Other films nominated in the category of Best Costume Design were I Am Love, The King's Speech, The Tempest, and True Grit.
In her thank-you speech, Ms. Atwood paid tribute to her fellow nominees and then recognized the genius of Lewis Carroll. "The story, Alice in Wonderland, was described by its publisher in 1865 as a story valued for its rare imagination, priceless humor, and power to transport the reader into a world of pure fantasy, a gift to us all," Ms. Atwood said. She then thanked Tim Burton: "The heart of any movie lies with the director, and I've been incredibly lucky on this and many films to work with the singular Tim Burton," she said. "Tim's imagination, along with the amazing cast — Johnny's incandescent Hatter; Mia's Alice for all girls, all times; Helena's fearless bigheaded Queen;and our crystalline snowflake princess, Anne Hathaway — made my job a delight."
The Zone thanks FANtasticJD for sharing the news; you can read more about the Academy Awards for Alice in Wonderland on the Zone's News & Views forum.
We congratulate Colleen Atwood on her well-deserved Oscar; the always-in-demand designer is currently creating the costumes for Tim Burton's Dark Shadows, starring Johnny Depp, Eva Green, Helena Bonham Carter, Jackie Earle Haley, Bella Heathcote, and Michelle Pfeiffer.